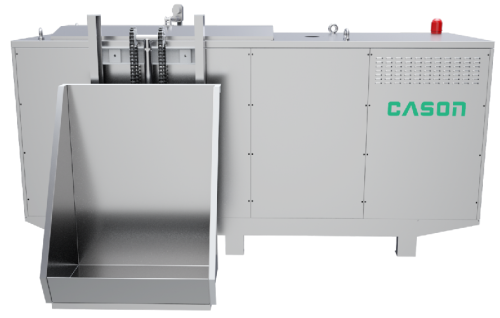 Cason | Harmless Treatment System Machine | Bio-safety disposal System Machine Manufacturers
Description
QWF-200 Harmless Fermentation Machine
Qingdao Kaisheng Environmental Protection Equipment Manufacturing Co., Ltd

. has created a new era of bio harmless treatment with innovative technology products

—

a new generation of fast

harmless biological fermentation system

. We are proud to provide you with our series of rapid

fermentation systems

and convenient and reliable after-sales service.
Product Description
The equipment is a new type, efficient and energy-saving

fermentation system

with large coefficient, fast speed and low energy consumption, which combines the leading bioengineering technology in China and the advanced technology of the world's

fermentation equipment

, and complements each other in practice; It has the advantages of safety, dust-free, good sealing performance, convenient operation, installation and maintenance, no three wastes, zero emission, etc. It has the technological advantages of fermentation, sterilization, deodorization, insecticidal, hormone degradation and heavy metals for feces and dead livestock and poultry carcasses. It has wide adaptability to mixed fermentation products, no dead corner, no deposition, uniform heating and high mixing precision.
1. Product introduction
Heat transfer oil, steam, hot water and other heating methods can be selected for the system, and the system is equipped with a spray exhaust air purification and dust removal system. The system is widely used in the

biological fermentation engineering

of organic waste resource regeneration. The mixing heating uniformity of the system has reached the world's advanced level. It is a new energy-saving and efficient advanced fermentation system that combines the advantages of domestic and foreign countries. The company follows the enterprise tenet: quality first, user first, reputation first. The product has been well reflected by users after practical use, and has been well received by users at home and abroad.
2. Technical standards of each unit of the product
No.

System Unit

Project

Technical parameters

1

Basic parameters

Volume of box body

≥4.5m³

Fermentation temperature

≥60℃

2

Subject

Material:SUS304

Insulation layer

Insulation layer protection steel plate material thickness 0.5 mining steel or magnesium-coated aluminum-zinc plate, national standard plate.

3

Crushing System

Bearing

SKF、NSK、FAG style

Drive the motor

Provide relevant certificate, test report, Safety and quality certification materials, equipment operation/maintenance manual.

4

Heating System

Heating power

30-60kw

Heating temperature

Heating temperature can be adjusted, the maximum limit of 180 ° C, temperature adjustment should be set to regulate the authority of protection, not exceeding the limit or arbitrary adjustment

5

Remove odors from the system

Remove the stink from the tower

Shell material: SUS304, thickness: 1.5 mm standard plate.

6

Loading system

Hopper

Hopper material carbon steel, stainless steel, thickness ≥4 mm national standard plate;

7

Control system

Basic requirements

The control system shall consist of electric box, Operation Panel, temperature control system, etc.
3. Operating principle of equipment
This model is a horizontal cylinder with a single axis symmetrical mixing arm distribution structure. Driven by the motor, the rotating spindle rotates directionally according to the corresponding program, so that the materials can be fully and evenly fermented and decomposed. The heat required for the reaction can be provided by electricity, steam, hot water and other heating methods. During the heating reaction process, the water in the material evaporates and is drained by the induced draft fan. In order to meet the oxygen retention during the fermentation process, an air inlet is set at the symmetrical end of the air outlet to ensure sufficient oxygen during the

fermentation of the equipment

.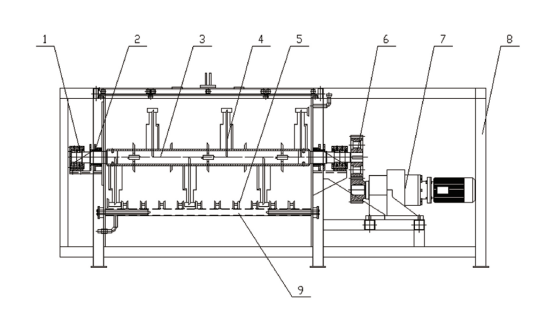 Structure diagram of fermenter and name of main parts

(1)

Bearing pedestal(2)Sealing seat (3)Rotating shaft(4)Shaft crushing arm(5)Fixed knife (6)Transmission gear(7)gear reducer(8)frame(9)U-shaped cylinder

The system is composed of transmission, crushing system, cylinder, cylinder cover, inlet and outlet valves, heating device and other components.
4. Method analysis and comparison
| Project/Method | Thermophilic fermentation | Chemical method | Incineration method | landfill | Corpse pool |
| --- | --- | --- | --- | --- | --- |
| Fundamentals | High temperature harmless fermentation in closed equipment | Damp heat, high temperature and high pressure | High temperature combustion | Slow decomposition of microorganisms in nature | Microbial decomposition in the pit is slow |
| Bio-Safety | excellent | excellent | excellent | Poor | Poor |
| Environmental requirements | Fully compliant | Poor, potential secondary pollution such as wastewater | Poor, waste gas | Poor, pollution caused by soil and groundwater | Poor |
| Processing temperature | higher | high | highest | low | low |
| Treatment effect | More thorough | Incomplete | thorough | Incomplete, greatly affected by the environment | Incomplete, greatly affected by the environment |
| Operational risk | low | High, food safety | High, environmental protection | High, bio safety and food safety | High, environmental protection |
| Initial investment | Lower | higher | medium | low | Lower |
| running cost | higher | high | high | low | low |
| economic performance | better | common | minus | minus | minus |
5. Deliver, Shipping And Serving
Time of delivery: Within 20 days after down payment received.
The shipping way: By sea
We welcome your inquiry.